Home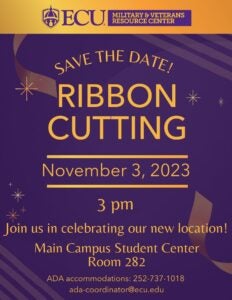 Welcome to the Military & Veterans Resource Center at East Carolina University! As part of the Department of Intercultural Affairs, we help smooth the transition of service members to higher education. Our inviting lounge offers a space for studying, socializing, and connecting with fellow military-connected students.
Whether you're a veteran, ROTC student, or supporter, we're here to assist with the unique challenges of university life. The lounge features spacious areas, a kitchen, and study rooms, along with academic workshops, peer advising, and various social events.
Open Monday to Friday from 8:00 A.M. to 5:00 P.M., our staff is available for both virtual and in-person appointments.
Make the Military & Veterans Resource Center your home at ECU, where our goal is to enhance and support the lives of veterans, military personnel, their families, and our community